October 11, 2021
Tips for Throwing an Unforgettable Fall Party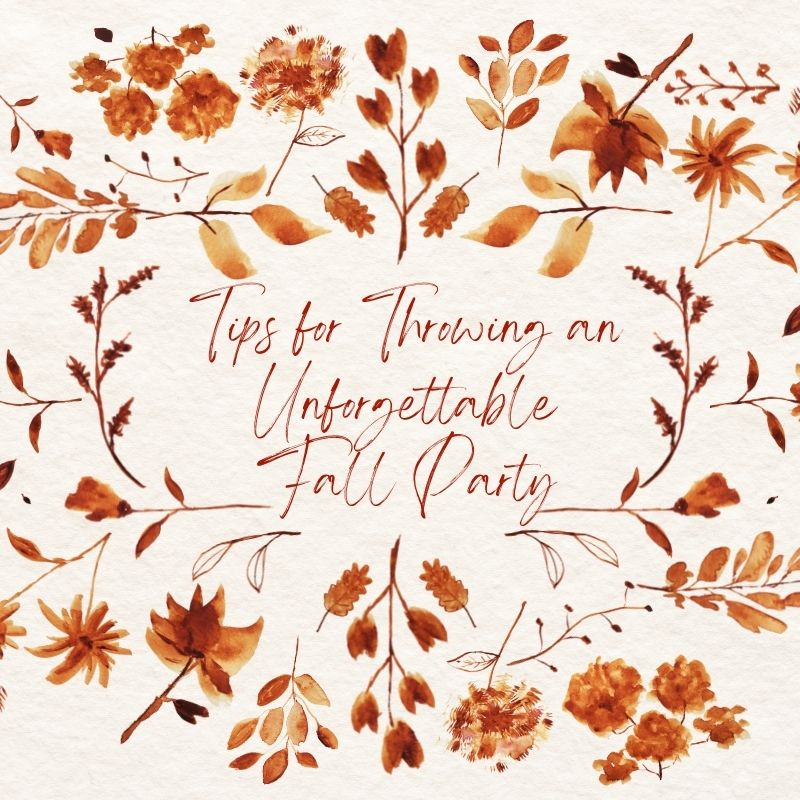 Fall is my favorite season for so many things, and autumn house parties are one of the most fun ways to enjoy the company of friends and family and celebrate the season!
I'm sure there are many of you who are itching to get back to hosting parties after the pandemic, and while any party you throw will be unforgettable simply because it will likely be one of the first fall season parties people will attend since Fall 2019, there are a bunch of ways to make your autumn party truly unforgettable.
Here are my tips for throwing an unforgettable Fall Party!
Get your guests in the fall mood:
Greet your guests at the door with Pumpkin Spice fragrance oil to put them instantly in the autumn mood! Aromas are one of the quickest and easiest ways to set the tone for a party, so make sure the first thing your guests smell is a fragrance that will put them in the mood for all things autumn.
Put on a Pumpkin Carving Contest or Soup Cook-off:
Have your guests participate in a Pumpkin Carving Contest! Buy some large pumpkins, a few sets of carving tools, and some permanent markers so guests can sketch their design on their pumpkin before carving it. You can designate a panel of judges or ask all the guests to vote for their favorite design and give a prize to the winning carver! A little autumn gift bag with a Fleur Medallion Classic Nickel Plugables® Electric Scented Oil Diffuser with Pumpkin Spice Fragrance Oil is the perfect prize for the winner of the pumpkin carving contest!
Or have the party food taken care of and provide a fun autumn activity by hosting a Soup Cook-off! Ask guests to bring a fall soup or chili, and provide autumn colored voting slips for guests to vote for their favorite. Give the winner an autumn gift bag with a Fleur Medallion Classic Nickel Plugables® Electric Scented Oil Diffuser with Spiced Vanilla Fragrance Oil.
Set up an autumn photo booth:
Decorate a spot in the yard or living room with garlands of artificial leaves, mini pumpkins, and maybe a hay bale or two for guests to take fun autumn photos! You can even create a social media hashtag for your party and ask guests to post their photo booth images to social with the hashtag for a fun, virtual guest book.
Make sure your kitchen is cozy:
We all know it to be true: At a party people tend to congregate in the kitchen! Make sure it's nice and cozy with Vanilla Bourbon or Brown Sugar Biscotti No-Mess Fragrance Tarts™ in your wax warmer. Or combine the two for an autumn bakery blend that will have your guests feeling like they stepped into an autumn oasis.
Provide autumn beverage(s):
If you opt for the fall soup cook-off idea, the party food will be mostly taken care of by the participants, but be sure to have a fall beverage option! Use the Homemade Apple Cider or Chai Latte recipes from How to Create Your Autumn Retreat at Home. Get a bottle of caramel vodka for an adult option to go with the Apple Cider, or fire up the espresso machine so guests can make Dirty Chai Lattes!
Set up cozy seating areas:
If the weather is chilly, be sure to pull out all your coziest blankets so guests can snuggle up. Plug in your Plugables® Fragrance vase in the living room—or bring it outside to the patio for a night-light—with Apple Orchard or Pine Grove No-Mess Tarts for a cozy light and a favorite fall fragrance. If you do a campfire, add some sage leaves to the flames for a pleasant aroma that will also help keep any of the remaining pests away.
Don't forget the bathrooms:
Use a Plugables® fragrance diffuser with Spiced Vanilla, Pine Grove, or Apple Orchard fragrance oil to keep the bathroom smelling fresh and to keep your guests in the fall mood. Decorate the counter tops with a couple mini pumpkins or ornamental gourds and string a strand of orange or white twinkle lights using small removable hooks around the mirror.
Party Favors:
Add the extra autumn touch and send your guests home with a party favor gift bag! Include fall fragrance products like No-Mess Fragrance Tarts™ for wax warmers in aromas like Vanilla Bourbon, Pumpkin & Spice, Apple Orchard, Brown Sugar Biscotti, For Evergreen or Icy Cinnamon; a Medallion Plugables® Electric Scented Oil Diffuser with Pumpkin Spice, Spiced Vanilla, Apple Orchard, or Pine Grove Fragrance oil; a few pieces of Halloween candy or a little bag of homemade granola or a homemade apple tart; and any other little autumn things you can think of.
Your guests will name you the Party Host of the Season when you put on an autumn party with these tips! Get all the fall home fragrance products you need to make your home the perfect fall party spot from TheGiftofScent.Com.
Kate for TheGiftofScent.Com.