April 27, 2021
Busy, On-The-Go Moms Deserve Fragrance Favorites for Car & Travel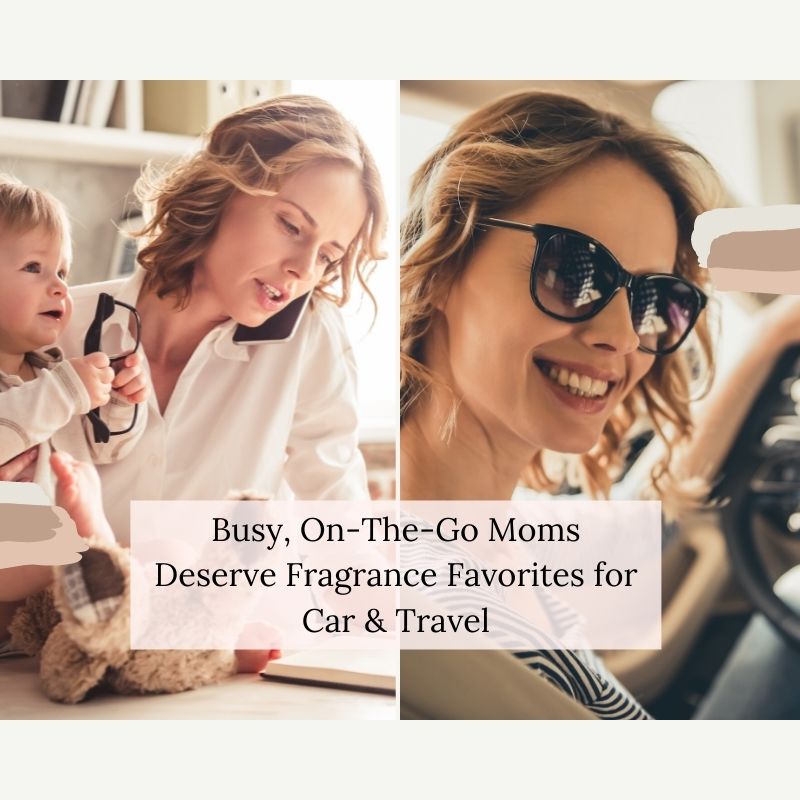 Moms are rock stars. Seriously. Do you know anyone else who, with little (if any) formal training can manage schedules of multiple humans, build her own career, be creative in any number of different ways, show love and affection to her family and friends, and still manage to actually function as a normal human being? 
It's likely you count on Mom to balance everyone else's schedules and coordinate your family's lives. You count on her to remember important dates and details. You counted on her to get you where you needed to go, feed you when you needed to be fed, or make sure you had clean clothes. Moms are on-the-go so often, and they could use a little extra boost to help them continue to handle all the ins and outs of parenthood while still being awesome women in general.
This Mother's Day, TheGiftofScent.Com is offering Mother's Day Gift Sets that can help show your rock star of a Mom that you appreciate all she does for you and everyone else in her life. Here are some gift ideas for your busy Mom:
None of what Mom does would be possible without energy. Help give Mom the energy she needs to live her busy life.
Find her a cool travel coffee/tea mug—one of those no-spill, keeps drinks hot or cold forever mugs. She'll love that she can help reduce waste when she gets her afternoon pick-me-up from Starbucks or her favorite local coffee place.
She'll feel energized and ready to go no matter where she's heading with the Energy 2.0 AERON Drive Time® Power Car Fragrancer™ 12 V Diffuser. She can plug the diffuser into her car and enjoy energizing fragrance that will keep her going strong all day.
Help Mom feel fresh and ready to go for her busy day ahead. Maybe she has to spend time in the car shuffling folks to various events or commuting for work. Maybe she has a long weekend work trip or an athletic tournament to attend. Help her keep fresh with these gift ideas:
Offer to clean her car: vacuum it, detail the inside, and take it through the automatic wash. She'll love having a fresh, clean vehicle to travel in.
And help her keep her vehicle smelling fresh long after you clean it with the Freesia Aromables® Portable Air Freshener with vent clip—included in the Mom's On-the-go Lifestyle Gift Set. The Aromables reusable vent clip air fresheners make it easy for Mom to take good smells with her wherever she roams, so she can arrive refreshed and happy. On road trips, she can even take her Aromables with her to freshen her hotel room.
She'll love to hang the Aromatherapy Scent Pendant™—also included in the Mom's On-the-go Lifestyle Gift Set—from her rear-view mirror. This beautiful, handmade charm will brighten up the feeling in her car while giving off a wonderful scent.
And for her workspace—in the office or on the road—in her luggage or gym bag, help her feel fresh with these products:
The FlashScent® USB Aromatherapy Diffuser with Peppermint Essential oil is an innovative secret to keeping Mom feeling fresh and clear-minded on the go, and also comes in the Mom's On-the-go Lifestyle gift set.
And with a PowerFresh® Throw-and-Go portable air freshener, she can keep her gym bag, travel luggage, or extra pair of shoes smelling fresh. The Sparkle, Not Sweat™ PowerFresh® in the Mom's On-the-go Lifestyle Gift Set has a Fruity-floral aroma and features a yogini on a glitter-packed purple case.
Tell Mom she's a total rock star who deserves all the best fragrance products this Mother's Day—and every day—with Mother's Day Gift Sets from TheGiftofScent.Com.
Kate for TheGiftofScent.Com.