April 26, 2021
Show Mom You Care About Her Health This Mother's Day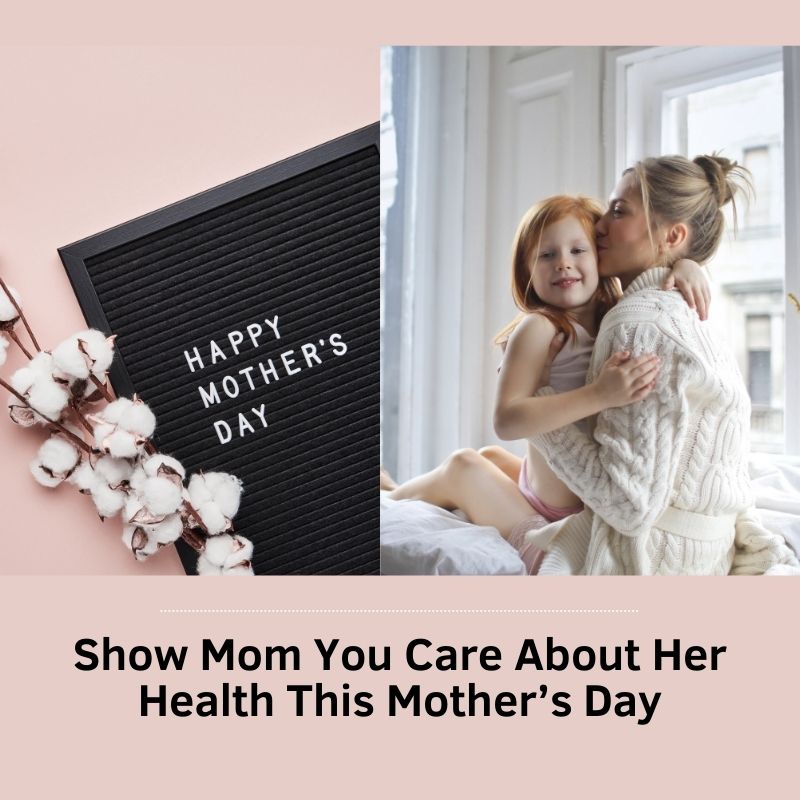 Spring is here and that means it's the time of year we get to celebrate all the wonderful mothers in our lives. Our grandmothers, our mothers, the mothers of our children, sisters and friends who are mothers—they all deserve to be shown some extra love for Mother's Day.
But instead of just buying the mothers in your life generic flowers and a sappy card, I think our mothers deserve some true pampering this year. With all the health issues this world is currently facing, and with all the extra effort and attention all the mothers have had to give during the pandemic to help their families function at a somewhat normal level, the mothers in our lives are more stressed out than ever and at a greater risk of developing illness. 
If Mom isn't healthy, she can't take care of her kids as well as she would like to. If Mom's health is compromised, the whole family suffers. The mothers in our lives affect us and the lives of everyone they know in countless ways, so this Mother's Day, we want to help Mom prioritize her health and wellness.
Here are our tips for helping Mom live her healthiest life:
Help her prioritize sleep:
Give Mom the gift of uninterrupted sleep. Sleep is vital to our health and the functioning of our immune systems. Without sleep—particularly REM sleep—everything from our digestive systems to our mood and emotional regulatory systems to our actual brain function will suffer.
If you're celebrating your wife, take care of the kids all night and morning and let her sleep until her body tells her it's time to wake up. If you're celebrating your sister or friend, offer to take the kids for a night so she can sleep in her own bed and relax completely. If you're celebrating your Mom, consider giving her a night at a luxurious hotel where she can spend some quality time alone to relax and sleep soundly.
Help Mom make her bedroom into a haven for sound sleep with an ultrasonic diffuser and Lavender Essential Oil. Diffusing Lavender Essential Oil while she sleeps will help her body produce melatonin—an essential chemical for sleep.
Help her stay hydrated:
A dehydrated momma is not a happy momma. We know our bodies are mostly made up of water, yet so many of us are chronically dehydrated. Hydration has a direct effect on the functioning of every part of our body, from our muscular system and joints to our brain and digestive systems.
Give Mom a fun new water bottle or a new water filter for the fridge. Cut up some fresh fruit and make her some fruit infused water for a refreshing drink. If you notice Mom is too busy throughout the day to remember to drink water, bring her a glass, give her a hug, and tell her how much you love her.
Help her consume healthy food:
This Mother's Day, Mom deserves some healthy food she doesn't have to plan, shop for, and cook all by herself. Make Mom a healthy breakfast or dinner. Help her make a healthy food list and offer to do the shopping. When her family helps to encourage healthy eating, healthy food becomes a simple choice for Mom to make.  
Help her prioritize movement:
One of the most important parts of a healthy lifestyle is movement. Moving our bodies every day can help us get and stay healthy. Help encourage Mom to prioritize her movement by suggesting a family walk on a nice afternoon. Or offer to watch the "youngins" so she can hit the gym or go for a jog. Buy a yoga DVD and follow it as a family (or get on YouTube to find a free Yoga class video!). And you can even help her keep her workout gear smelling fresh with Power Fresh® Portable Air Fresheners she can throw in her gym bag, purse, or in her running shoes.
Help her spend time in nature:
No healthy lifestyle is complete without time spent in nature. Countless studies have shown the benefits of being in nature on our physical bodies and on our mental and emotional health. Help Mom get outside this Mother's Day. Plan a fun hike, coordinate a backyard camping night, or take her to a park for a picnic. Spend time in nature as a family to help show Mom you care about her health.
Show the Mom in your life you care this Mother's Day with gift sets for her health, her home, her on-the-go lifestyle, or her personal care routine. With pure and organic essential oils, best-selling Plugables® Fragrance Vase Wax Warmers, and innovative USB travel diffusers, let Mom know how much you love her this Mother's Day with The Gift of Scent.
Happy Mother's Day to all of the amazing mothers out there!
Kate for TheGiftofScent.Com.