March 24, 2022
Happy International Fragrance Day! Our Spring Fragrance Collection is Here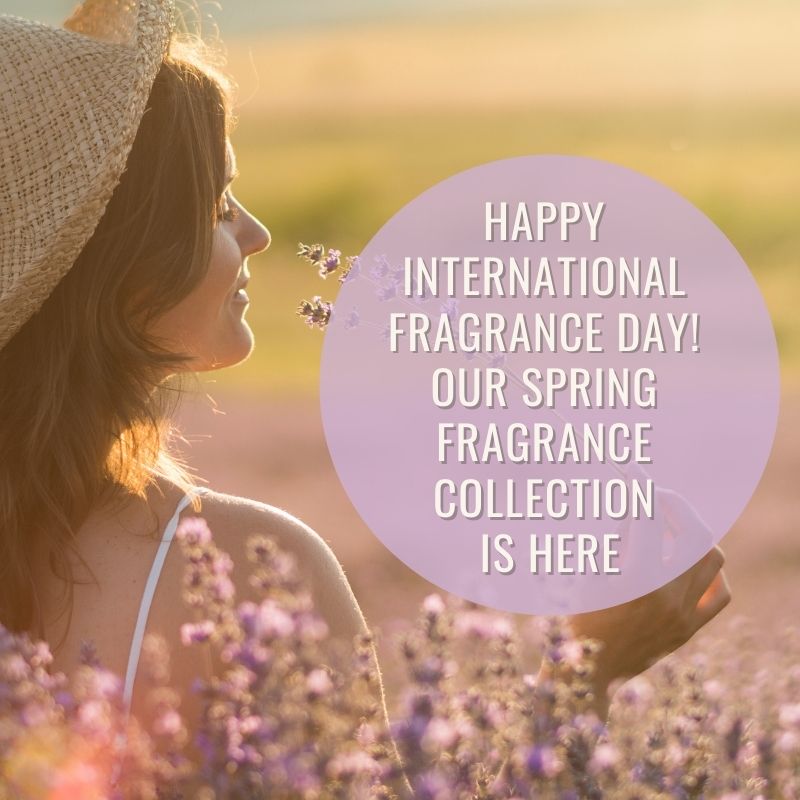 March 21st is International Fragrance Day, and here at TheGiftofScent.Com, to say we love fragrances would be an understatement.
From home fragrances to aromatherapy, fragrance is a way of life for us, and we want to help make your life a little more fragrant and fun with our home and travel fragrance products!
This International Fragrance Day, I'm 100% in the mood for Spring! I'm excited about the warmer weather and already thinking about all the fragrances I want to use in my home and vehicle to really hit refresh for the season.
**Today ONLY, March 21st, use code "FRAGRANCEDAY10" for 10% off site wide! Code is case-sensitive and cannot be combined with any other codes or offers (including any current giveaway)**
Did you know we curate a Spring collection of products, including 4 seasonal fragrance oils? We do this for every season, but Spring has some of the freshest fragrances and fragrance products for getting the stale, winter energy out of your home. The Spring fragrance oils include Green Tea, Cotton Clouds, Wild Flowers, and Lavender Fields.
I'm also loving the rest of the Spring collection:
Clary Sage Essential Oil has a sweet, playful aroma that is perfect for Spring. I put a couple drops of Clary Sage Essential Oil on a felt replacement pad on my Floral Medallion Serenity ScentSlides™ Unplugged Portable Air Freshener and clip it to the visor to keep me feeling refreshed in the car.
I use my FlashScent® USB Aromatherapy Diffuser in many different places at home and on the go, but my favorite way to use it is to plug it into my laptop while I'm working. The fresh aroma of Lavender Essential Oil helps me feel calm and serene, even when I'm working on a tough project.
One thing I love about TheGiftofScent.Com is the range of fragrance products we offer. I can keep my home and car smelling fresh year around with everything from pure and organic essential oils and aromatherapy diffusers to wax warmers to fragrance oils and more. Along with the aromatherapy products, the Spring Collection also includes the wildly popular Branch ScenTrio® Warmer with Sweet French Lavender No-Mess Tart®. The special No-Mess Wax Tarts are cleaner, safer, and last longer than traditional wax tarts, and the Sweet Fresh Lavender fragrance will have you feeling like Spring truly is in the air...no matter what that pesky ground hog says.
Also in the Spring Collection at TheGiftofScent.Com is the fresh smelling—and fresh looking—Cherry Blossoms Premium Plugables® Home Fragrancer with Wild Flowers Fragrance Oil. Spring is full of special days and holidays that we often celebrate by giving or receiving flowers—Mother's Day, Memorial Day, etc. I love the Wild Flowers fragrance oil because it instantly puts me right into the Spring mood, and the Cherry Blossoms Fragrancer is a beautiful way to freshen my home.
Don't forget to use the coupon code FRAGRANCEDAY10 at checkout for 10% off March 21st only, or join our mailing list for a 10% Off Coupon Code to use on your first order from TheGiftofScent.Com! Just enter your email address in the form below (in the footer!) to get your 10% discount code and get all the Spring Collection Fragrance Products to refresh your home and vehicle.
And don't forget to check out our blog to Get Inspired with aromatherapy tips, ideas for your signature home fragrance set, and more.
Happy Fragrance Day, friends!
Kate from TheGiftofScent.Com.