October 05, 2021
How to Create Your Autumn Retreat at Home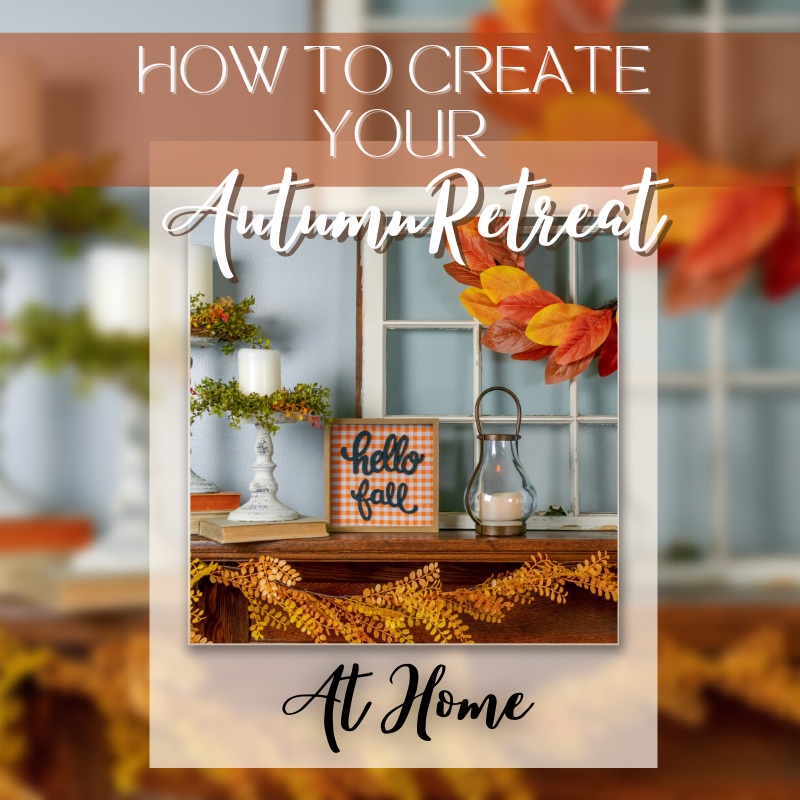 Raise your hand if you love Autumn! (Hehehe…I see you over there actually raising your hand. In real life, we'd be friends.)
SAME! Fall is my favorite season of the year for so many reasons: the clothes, the food, the drinks, the activities, the weather, the aromas…
I think I would do very well in a magical town somewhere in the north east corner of the country with eternally fall weather and the most magically colorful leaves, where I get to live in a cabin in the mountains that is somehow still a short walk from town, where there's a perfect little coffee shop that always serves pumpkin spice lattes and apple crumb muffins…I could go on.
I'd decorate my cabin with fall wreaths and garlands with red, orange, and yellow colored leaves. I'd have a pot of apple cider on the stove every afternoon. I'd have a fire in the fireplace and go apple picking once a week.
Sadly, my magic, eternally-fall town doesn't exist outside of a TV show set, but I'd settle for an Autumn retreat—a vacation to somewhere that can provide the classic fall experience…I'm thinking Vermont or New Hampshire.
While I, unfortunately, don't have the time or disposable income to go on an autumn retreat to somewhere that looks like my dream town, I've found ways to make my home into my own little Autumn Retreat instead!
By adding a few easy items to your decor, picking up a few basic fall ingredients to have on hand, and crafting your fall fragrance collection, you can turn your home into the Autumn Retreat you long for—even if where you live doesn't feel like Fall yet (or ever).
Follow these tips to create your At-Home Autumn Retreat:
Use Apple Orchard, Pumpkin & Spice, Vanilla Bourbon, Brown Sugar Biscotti, Icy Cinnamon, or For Evergreen No-Mess Fragrance Tarts™ in your wax warmers:
Fill your home with your favorite fall fragrances with the help of  No-Mess Fragrance Tarts™ in your wax warmers. Wax warmers are a great way to disperse fall fragrances throughout your home and give you the feeling of being on an autumn retreat. No-Mess Fragrance Tarts™ are a clean and safe home fragrance option that make it simple to change the fragrance whenever you feel like it.
I like to switch out the fragrance in my wax warmers every day during the fall so I can enjoy each of my favorite fall aromas. Today, I'm using For Evergreen No-Mess Fragrance Tarts™ in my Gold Mosaic Plugables® Fragrance Vase Wax Warmer.
Diffuse Pumpkin Spice, Spiced Vanilla, Pine Grove, or Apple Orchard Fragrance Oil in your Plugables® Electric Home Fragrancers:
Another easy way to diffuse fall fragrances throughout your home is with Plugables® Electric Home Fragrancers and fragrance oils. Just insert the fragrance oil wick carefully into the Plugables® Electric Fragrancer and plug it into any outlet.
I love to use Plugables® Fragrance oils in my bathroom and kitchen. In the fall, I diffuse pumpkin spice or spiced vanilla in my kitchen for a scrumptious fall treat aroma and apple orchard or pine grove in my bathroom to keep it smelling fresh and seasonal.
Make your own chai latte mix for an autumn morning pick-me-up:
One of my favorite fall drinks for the morning is a chai latte. You can make a simple chai at home with black tea, cinnamon, ginger, cloves, milk, and sweetener.
Try out this recipe (adapted from recipe by Detoxinista.com):
Heat 2 cups of your favorite milk in a pot on the stove. (I like Vanilla Soy or 2% Milk)
Steep 2-3 bags of black tea of choice in the milk. (I like Earl Gray. Use more or fewer tea bags for desired strength and caffeine amount.)
Add ground cinnamon, ground ginger, and ground cloves to taste. Recommended amounts: ¾ tsp cinnamon, ¼ tsp ginger, 1/8 tsp cloves. Stir to combine.
Remove pot from heat and stir in sweetener of choice in desired amount. (I like 2 tablespoons of maple syrup or 1 ½ tablespoons honey.)
You can also make a stronger autumn morning pick-me-up by adding a shot of espresso to your chai latte to make a "Dirty Chai."
I love to use Vanilla Bourbon No-Mess Fragrance Tarts™ in my wax warmer in my kitchen while I enjoy my chai lattes in the fall. The fragrance compliments my morning beverage perfectly and makes for an even sweeter experience.
Make your own apple cider mix to simmer in your crockpot or on the stovetop in the evening for a cozy autumn beverage:
Nothing tastes better than a hot apple cider on a chilly fall afternoon, and nothing smells better than home-made apple cider simmering on the stove!
Make your own quintessential autumn beverage to round out your autumn retreat experience by following this recipe from Delish.Com:
Ingredients:
10 large apples, quartered
½ orange
4 cinnamon sticks
1 tsp. cloves
1 tsp whole allspice
1 whole nutmeg
1/3 c packed brown sugar
Directions:
In a large stockpot over medium heat, add apples, oranges, spices, and brown sugar. Cover with water by at least 2". Bring to boil, then reduce heat and simmer, covered for 2 hours.
Remove orange halves, then use a potato masher or wooden spoon and mash apples. Return to a simmer and let simmer uncovered for 1 hour more.
Strain through a fine mesh strainer, pressing on solids with a wooden spoon to squeeze all juices out. Discard solids.
Serve apple cider warm.
For an evening adult drink, add a shot of caramel vodka for a Spiked Caramel Apple Cider.
I like to add even more fragrance to put me in the perfect fall mood while my apple cider is simmering on the stove by diffusing either Pumpkin Spice or Apple Orchard fragrance oils in my Plugables® Home Fragrancers!
Finally, decorate your autumn retreat with ornamental gourds, miniature pumpkins, garlands of artificial fall colored leaves, and Amber/Honey Allure Soy Candle(s):
To complete your autumn retreat setup, decorate your home with ornamental gourds, miniature pumpkins, garlands of artificial fall colored leaves, white, red, or orange string lights, and candles like the Amber/Honey Allure Soy Candle.
Pull out your coziest blankets and sit in front of the fireplace (or put on the fireplace video from YouTube or Netflix and light your Allure Soy Candle) with your homemade chai or your apple cider.
Get cozy, and let your worries melt away in your At-Home Autumn Retreat. When you're ready for bed, plug in your Lavender Fields fragrance oil in your Plugables® Electric Fragrance Diffuser in your bedroom and enjoy the soothing calm to end your relaxing day at your autumn retreat.
You can get everything you need to complete your perfect fall fragrance collection and turn your home into a blissful autumn retreat from TheGiftofScent.Com. Check out our Fall Favorites collection and look for our upcoming Staff Picks for Fall blog post to get more recommendations for Autumn from our home fragrance experts!
Kate for TheGiftofScent.Com.