February 16, 2022
Small Space, Big Fragrance: Home Fragrance for Apartment Dwellers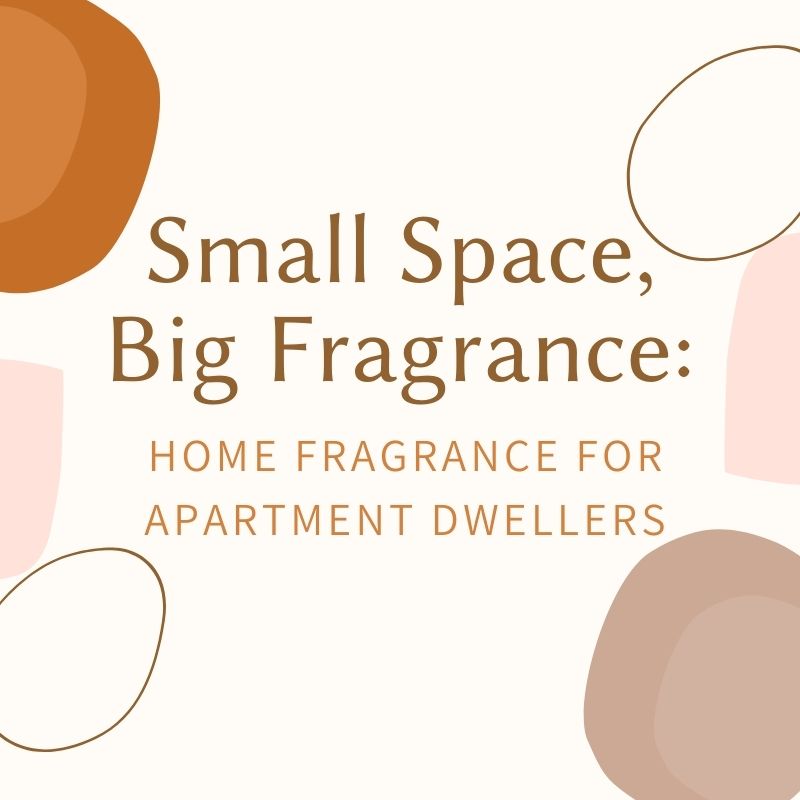 When you're living in a small, downtown apartment (like I am), you might assume you don't need much in the way of home fragrance products to keep your small space smelling fresh. But what I've discovered after years of living in an apartment is that the smaller the space, the more need there is for home fragrance products because a small space puts you in closer proximity to all things smelly! P-U!
Gym clothes in the hamper, outerwear in the closet with smelly pits, the rug the dog loves to sleep on, a stale-smelling trash can, the musty kitchen sink and disposal, the bathroom (just in general), your rank shoes...If your sense of smell is intact, you smell all of those nasties when you're confined to a small apartment. #MaskFaceEmoji
You could launder, scrub, and power-wash everything you own and everything in the apartment overall, but that takes way too much time and probably won't keep the stink at bay for longer than a few days. Instead, you can curb your stinky apartment woes is with home fragrance products that keep things smelling fresh—even when they're not so fresh—for days and months at a time!
Here are the home fragrance products I use to keep my small, downtown apartment—and all its potential bad odors—smelling fresh:
Plugables® Home Fragrancer
First, I have a Plugables® Home Fragrancer right inside the front door of my apartment. Right now I'm diffusing Spiced Vanilla Fragrance oil for a sweet aroma that fills my living room and kitchen space.
I often plug in two Plugables in the same general space (in two separate outlets) with two different, complimentary fragrances to really freshen the place. Here are some of my favorite combinations:
Pine Grove Fragrance Oil + Green Tea Fragrance Oil
Apple Orchard Fragrance Oil + Pumpkin Spice Fragrance Oil
Lavender Fragrance Oil + Sea Breeze Fragrance Oil
Spiced Vanilla Fragrance Oil + Apple Orchard Fragrance Oil
Cotton Clouds Fragrance Oil + Pine Grove Fragrance Oil
Aromables® Portable Air Freshener
Aromables® may be in the vehicle collection of fragrance products, but they're for more than just the car! I use the vent clip of the Ebony Forest Aromables Portable Air Freshener to fasten the freshener to a shelf in my closet. It offers a light fragrance to keep my clothes, gear, and other things in my only storage area smelling fresh.
My favorite Aromables fragrances are Ebony Forest™ and Cottony Fresh™:
Ebony Forest: subdued notes of patchouli, sandalwood, and musk.
Cottony Fresh™: beats out bad smells, while you enjoy the freshness of line-dried cotton sheets.
ScentSlides® Unplugged
The ScentSlides® collection is another product that was created with a vehicle in mind but is perfect for freshening any small space. I have one with a felt pad for essential oils that I use with Sweet Orange or Lavender essential oil from Belle Aroma® to keep my laundry closet fresh.
I have another ScentSlides in my coat closet with a Mountain Air Fragrance Wafer to help keep my coats and shoes smelling fresh, and a third ScentSlides Unplugged sitting with my dogs' leashes and harnesses. The nylon leashes can get a little smelly—especially in the winter when the pups go bounding through the snow drifts—but the ScentSlides helps keep those smells from overpowering the space.
I love the Mountain Air and Exotic Teak Fragrance Wafers, as well as any of the Belle Aroma® Essential Oils on the ScentSlides Felt Pads. I often put two drops each of two different oils on a felt pad in my ScentSlides Unplugged. Some of my favorite essential oil combos are:
Peppermint and Lemongrass
Lavender and Sweet Orange
Clary Sage and Lavender
Sweet Orange and Peppermint
PowerFresh® Throw n' Go
And speaking of smelly shoes, I love the PowerFresh Throw n' Go pucks for throwing in our shoes when they're sitting in the closet or by the front door. These small pucks pack a powerful fragrance punch and easily refresh even the smelliest shoes (even my husband's work boots! ;) ).
Like with the Aromables, my favorite fragrances include Cottony Fresh, as well as the Sparkle, Not Sweat™ fragrance.
Cottony Fresh: For maximum odor control with the freshness of line-dried cotton sheets, cased in true blue color with holographic dots (hard to explain – you have to see and smell it for yourself.)
Sparkle, Not Sweat™: Fruity-floral aroma features a yogini on glitter-packed purple.
I love living in a downtown apartment. The space is small, but it's such a fun environment. Thanks to home fragrance products from The Gift of Scent, I can keep my small space smelling fresh! And instead of cleaning everything within an inch of its life every month to keep the smell from overpowering the place, I can focus on other things...like visiting my favorite local restaurant or coffee shop!
Cheers to fresh-smelling, small space living! 
Kate for TheGiftofScent.com.