November 11, 2021
Stay Well This Season with Essential Oils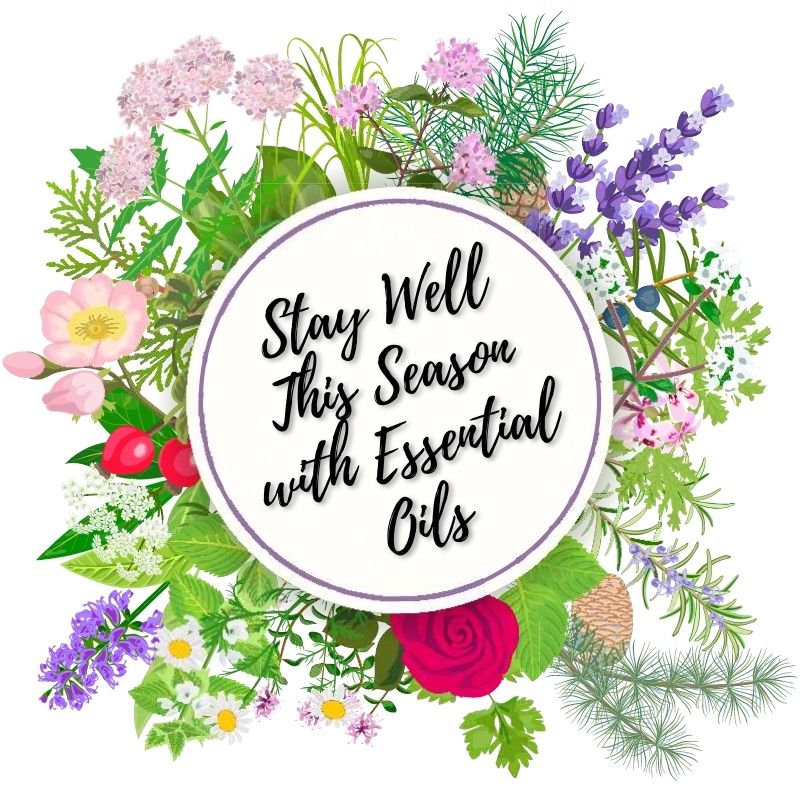 It's the most wonderful time of the year…and it's also the time when many of us get sick. Not so wonderful.
While many of us love this season, we also have to recognize how much higher our stress levels are during this time of year. And if we're being totally honest, our self-care routines tend to go by the wayside during the holiday season because many of us simply don't make the time.
So what do we get when we're overstressed, over worked, spending more time around people we don't generally spend time around, and eliminate our self-care routines? Illness.
I think it's high time we change the pattern. Read on for my tips for staying well this season using aromatherapy techniques:
Make (and keep) time for self-care with aromatherapy for pampering and relaxation
One of the easiest ways to help your body function properly during this hectic season is to use aromatherapy to boost your self-care practices.
Meditation is a powerful tool for optimizing health and relieving the negative effects of stress on the body. Diffuse organic and pure essential oils during your meditation to boost your experience and improve relaxation. I love to diffuse sweet orange or rose geranium essential oils when I meditate, journal, or do any other reflective exercise to help increase my stress relief.
Aromatherapy can add an extra boost of self-care to things like a relaxing bath, a massage, or an at-home facial. Diffuse lavender essential oil to take your relaxation to the next level while in the bath. Invigorate your senses while you use a massage gun or personal massager by diffusing peppermint essential oil in the space. Lavender, sweet orange, rose geranium, ylang ylang, and clary sage are all great picks to diffuse when you do an at-home spa treatment like a facial or foot bath and pedicure.
Also, the scents of essential oils can help you remember to pause during the holiday season, step away from the hectic schedule for a moment, and take care of yourself physically, mentally, and emotionally. Use the new Essential Breeze® Aromatherapy Fan with whichever 10ML bottle of essential oil helps you remember to take time for yourself and you'll have over 2 weeks of consistent aromatherapy diffusion. My go-to "self-care reminder" essential oil is lavender. Every time I breathe in the aroma of lavender essential oil diffusing constantly in my bedroom and bathroom, I'm reminded to take a little time to reset and decompress.
Boost your cleaning routines to keep germs away.
 Essential oils are powerful substances for helping kill germs and keep your home clean. Add essential oils like Sweet Orange to your cleaning routines for an extra boost of clean (and lovely aroma!).
I use essential oils when cleaning my sinks, shower, floors, and other surfaces. Always test a cleaning product mixture with essential oils on a small area of any surface to make sure it doesn't discolor or otherwise damage the material. Essential oils are powerful little molecules and can in some cases eat away at certain materials, such as plastics.
Make sure your sleep routine is on point all season with essential oils for sleep. 
One of the most important pieces of the health puzzle is restful, restorative sleep. Getting consistently restful sleep is one of the best ways to improve the function of your immune system. Sleep affects every single aspect of our bodies and minds. Good quality sleep can mean the difference between being physically ill and mentally fatigued all season and being fortified physically and mentally energized throughout the holiday season.
Promote healthy, restorative sleep with essential oils like lavender. I have lavender diffusing in my bedroom all the time to help promote my body's production of melatonin (which helps me fall asleep). Lavender is such a calming aroma for me, and breathing it in before bed helps my mind wind down and my body prepare to get the best sleep possible so I can stay healthy all season long.
Use these tips to stay healthy throughout the stressful season so you can enjoy every aspect of holiday cheer!
Happy Holidays, everyone!
Kate for TheGiftofScent.Com.