November 16, 2021
DIY Holiday Spa Experience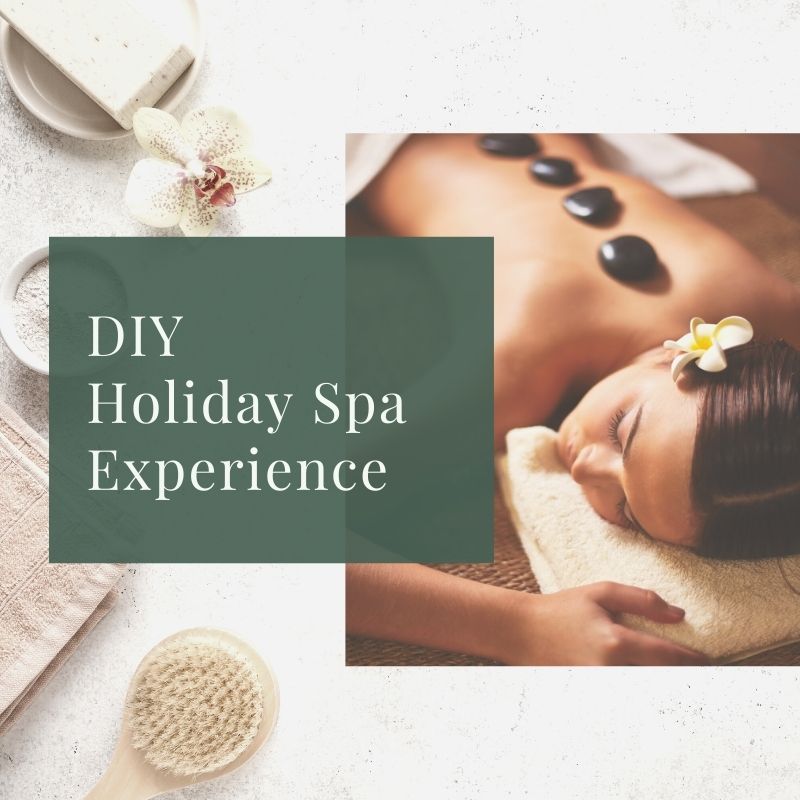 By the time Christmas comes around after the rest of the holiday festivities each year, my nervous system is taxed. Between shopping, cooking, family events, travel, and the general stress of the season, I'm in need of a spa day.

Massage, facial, body scrub, pedicure, manicure…I'd love it all.

While I would love to receive a spa day as a gift, it rarely makes my final list for Santa. Why? Because I can so easily make my own spa experience at home with bath and body products, candles, and fragrance products from The Gift of Scent!
Here's how to give yourself the full spa experience from the comfort of your home!

Pamper Your Tired Feet
The first thing I do to start my spa day is to pull out my warming foot bath. I fill it with water, add ¼ cup of Epsom Salts, 3-4 drops of Belle Aroma® Pure Lavender Essential Oil, and a few tablespoons of coconut oil to the hot water.

I also put on my Grapemist Cuddle Spa Neck Pillow after heating it in the microwave for a minute. I let my feet soak for 20-30 minutes, and then I use the "Miranda" Southern Sass Sugar Scrub with aromas of Peppermint and Vanilla to make my feet nice and soft before I do my pedicure.

Soak in a Hot Bath
Next, I start my full spa experience. There are a few things that I feel are key to a DIY spa experience: the fragrances of flowers, cucumber and lemon in my water, and a hot, exfoliating bath.

I use the Allure Amber & Honey Soy Candle to get the bathroom smelling like the spa. I also light the Bisby Paris Candle for aromas of dark violet, jasmine, and rose. I then pour myself a glass of water with cucumber and lemon slices…and a glass of white wine, to assist in my relaxation efforts. 😉

I soak in a hot bath with "I Am Abundant" Salt Soak and scrub with the Heartland Fragrance Vanilla Exfoliating Loofah Soap.

I also listen to relaxing music, turn off the lights, and have only the candle and a set of white or pink Christmas lights to really round out the experience.

Get Some Much-Deserved Rest
Once I'm fully relaxed, I get ready for a nap.

I install a 10ML bottle of Belle Aroma Pure Lavender Essential Oil in my Essential Breeze® Aromatherapy Fan on my bedside table. Then, I just turn on my white noise machine and take a nice, long winter's nap.


Give yourself (or a loved one) the pampering you deserve this holiday season with fragrance products from The Gift of Scent or give the gift of relaxation with the Relaxation Holiday Bundle. The Relaxation Holiday Gift Bundle is the perfect Teacher gift!

Kate for TheGiftofScent.com