January 24, 2022
We "Can't Help Falling in Love" with These Aromas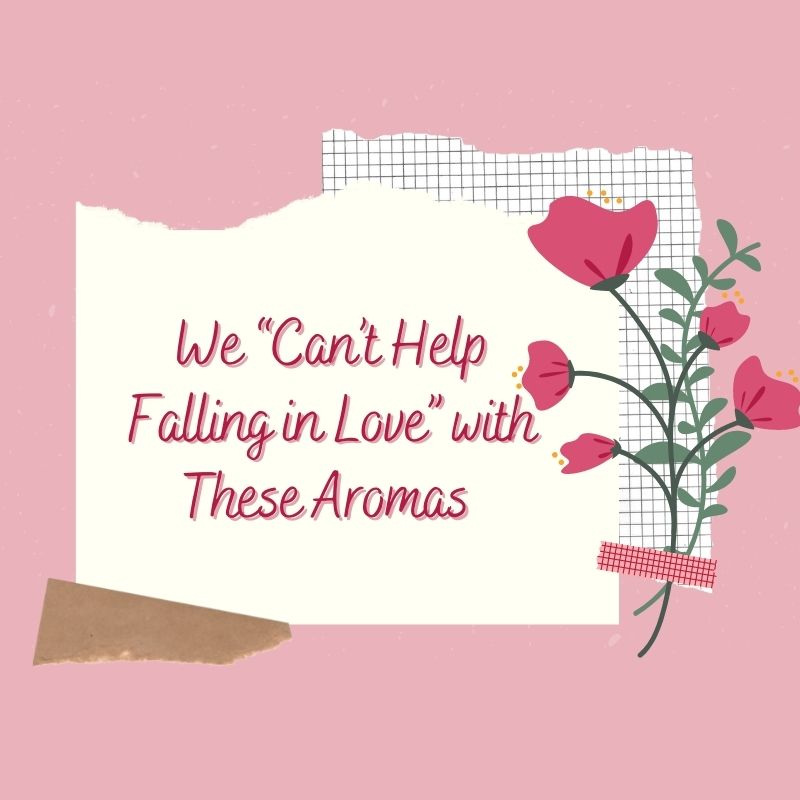 Are you "Crazy in Love"? Do you love "Just the Way (She) Look(s) Tonight"? Do you have a "Funny Valentine"? Do you hope you and your loved one will say "Let's Stay Together"? Are you ready to say, "Signed, Sealed, Delivered: I'm Yours" to your Valentine? Are you and your Valentine an "Eternal Flame"? You and your Valentine... "That's Amore," am I right?
Oh, I could go on... ;) 
We say "yes" to all of those questions, AND we "Can't Help Falling in Love" with essential oils like Lavender, Clary Sage, YlangYlang, and Rose Geranium this Valentine's Season.
I know I'm getting gushy about fragrances; of all things, but there's a reason for it! Our sense of smell is directly linked to our memories and emotions.
According to "Psychology and Smell," published on the Fifth Sense website, "The sense of smell is closely linked with memory, probably more so than any of our other senses. Those with full olfactory function may be able to think of smells that evoke particular memories... In addition to being the sense most closely linked to memory, smell is also highly emotive...On a more personal level, smell is extremely important when it comes to attraction between two people."
Our brains connect specific aromas to our memories and the emotions we experience. That's why we are brought right back to one particular experience the moment we catch a whiff of a particular fragrance.
For me, every time I smell Clary Sage Essential Oil, I think about Valentine's Day in elementary school. It reminds me of Sweet Tarts candy. We had a Valentine's Day Party every year at our school, and everyone in my class had a Valentine's box decorated with pink, purple, and red hearts, and glitter. On that day we would bring in cards and treats to fill each other's boxes. I loved reading the little notes from my classmates and teacher, and gobbling up the treats, like chocolate kisses and Sweet Tarts candy.
This Valentine's Day, give your loved one a Gift Set they can't help but fall in love with. Here are the essential oil products we've hand-picked for this season of Love:
Single Heart Gift Set: $20 - "I Love You"
Fleur Medallion Rose Quartz ScentSlides® Unplugged with Felt Replacement Pads: Belle Aroma Medallion ScentSlides Unplugged is designed to give you the impact of an electric fragrancer in any small space—car, closets, cubicle, locker, etc.—without the plug. For the car, clip on the visor, or use self-standing for small rooms. For larger areas, clip to the grill of a fan to increase fragrance throw. Includes Felt Replacement Pads for Essential Oils.
Belle Aroma® Pure Lavender Essential Oil: All Belle Aroma Essential Oils are 100% Pure Essential Oils and contain no carrier oils or synthetic components. Lavender Essential oil is believed to have antiseptic and anti-inflammatory properties in addition to treating restlessness and anxiety. 
Belle Aroma® Pure Peppermint Essential Oil: Known for its sharp penetrating aroma, Peppermint has a plethora of potential uses. It can be used to stimulate the body and support healthy energy. This 100% pure peppermint oil is sure to leave you feeling festive any time of the year.
Double Heart Gift Set: $35 - "You're My Soulmate"
Aromatherapy Scent Pendant™ with Essential Oil: Your partner will love this beautiful, handmade charm. She can hang it from her rearview mirror to brighten up the feeling in her car while giving off a wonderful scent. The ceramic lotus flower insert in the delicate filigree locket is handmade by the talented artisans at Arta Ceramica (not from a factory) to diffuse her favorite scents while she travels. Hang it in a closet or other small space. Just add a few drops of the essential oil and enjoy.
Belle Aroma® Pure Clary Sage Essential Oil: Clary Sage is a sweet-smelling essential oil that is believed to be supportive to female emotional and hormonal health.
Allure White Tea & Rose Candle: Our 7.5 oz. Kitchen Collection Candles come filled with Allure's highly fragrant SOY wax blend, and a 100% cotton wick for a clean, long-lasting burn. This candle comes packaged in a clamp-close jar with an orange gasket. After a 40-hour burn, the glass is the perfect size to reuse. Store your favorite candy, herbs, or other kitchen items that require an airtight enclosure. This scented soy candle blends fragrant notes of white tea, rose and a hint of lemon.
Triple Heart Gift Set: $65 - "You're My Everything"
Aromatherapy Scent Pendant™ with Essential Oil
Belle Aroma® Pure Rose Geranium Essential Oil: Rose Geranium Essential Oil is a floral aroma your Valentine will love.
Belle Aroma® Pure Ylang Ylang Essential Oil: Ylang Ylang Essential Oil has a flowery, exotic aroma that may help support female emotional and hormonal health.
Bamboo Lantern Ultrasonic Essential Oil Diffuser: Ultrasonic diffusers work by atomizing and breaking water and essential oil particles into micro-molecules and diffusing them into the air. Simply open and add water to the specified level, add drops of your favorite essential oil (to increase or decrease intensity), and press the on button to enjoy long-lasting, pure essential oils.
This Valentine's Day, give your Valentine a Gift Set that is so much more valuable than the typical flowers and jewelry. Nothing says "I love you" more that pure (100% All-Natural) Essential Oils, which is why we curated these three unique gift sets to complement your beloved.
Happy Valentine's Day!
Kate for TheGiftofScent.Com.