April 14, 2021
What Really Happens in the Bathroom...And Essential Oils to Make it Better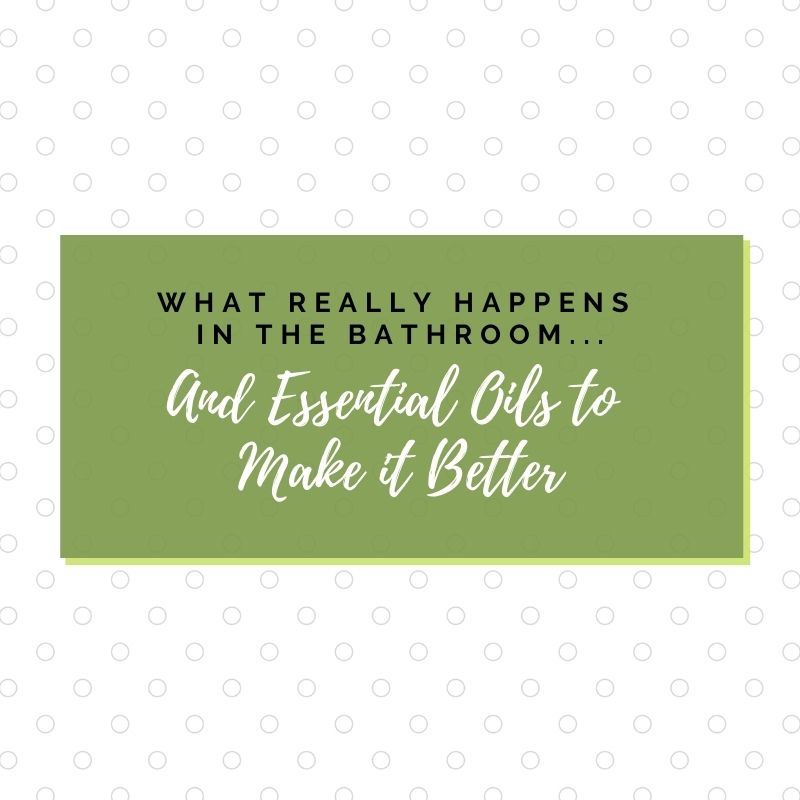 Remember that wet wipes commercial where the woman says, "It's time we talk about what really happens in the bathroom" and then she recounts the woes of toilet paper that doesn't really get you clean down there? Well, instead of talking about that part of what "really happens in the bathroom," let's talk about how you can keep the bathroom smelling fresh with all natural essential oils after all that stuff that "really happens," well, happens...Sound good? Cool.
So, first thing's first: Let's talk about how to clean the essential, yet smelly room with essential oils.
Your sink and bathtub drains can get smelling a little stale after a while. Easy fix! Just put a few drops of Sweet Orange and Lavender essential oils in your sink and bathtub drains, let it sit for a few minutes, then run some water to push the oils through the pipes.
Need a little "draino" action? Use baking soda, cleaning vinegar, and Sweet Orange essential as a homemade "liquid plumber." Sprinkle the baking soda in the drain first and put a few drops of sweet orange on top. Let it sink into the drain slightly, then pour cleaning vinegar down the drain slowly. After the baking soda/vinegar combination has stopped bubbling, boil some water and pour the hot water down the drain to push out any clogs.
And when you need to clean the porcelain throne, add a few drops of Lavender essential oil to toilet cleaner for extra freshness and cleaning/shine action in the bowl.
Now to really combat the smelliness in the bathroom...
Make your own feminine fragrance room spray with Sweet Orange, Rose Geranium, Clary Sage essential oils. In a glass bottle, add water—leaving a little space at the top—and add 5 drops of each essential oil. Put the spray top on and gently shake to combine. Tip: For a room spray that lasts a little longer and smells stronger, add a small amount of vodka to the room spray.
To prevent the true smelliest of smellies from getting too...well...smelly ;) : In a glass spray bottle add water, some rubbing alcohol, and 10 or more drops of your favorite essential oil (I like Sweet Orange or Clary Sage) to make homemade "Poo-pouri."
And let's not forget that the bathroom is not just a place where smelly things happen...it is also where we can relax and unwind in that room and it's where most of us get ready for the day ahead! Here's how to use essential oils to improve either routine:
Up Your Relaxation Game: Diffuse Lavender in your ultrasonic diffuser while you take a hot bath (perhaps with a salt soak from The Gift of Scent)! Lavender can help your body produce melatonin, which is essential for healthy sleep.
Energize Your Mornings: Diffuse Peppermint and Sweet Orange in your ultrasonic diffuser while you're getting ready for the day to help you feel energetic, vibrant, and fully alert!
Thanks for sticking with me as we discussed this potentially awkward bathroom business! These tips will help you a fresh bathroom...no matter what you need to be in there for. ;)
Kate for TheGiftofScent.Com.