April 24, 2023
Easy DIY Gift Ideas for Mother's Day Using Essential Oils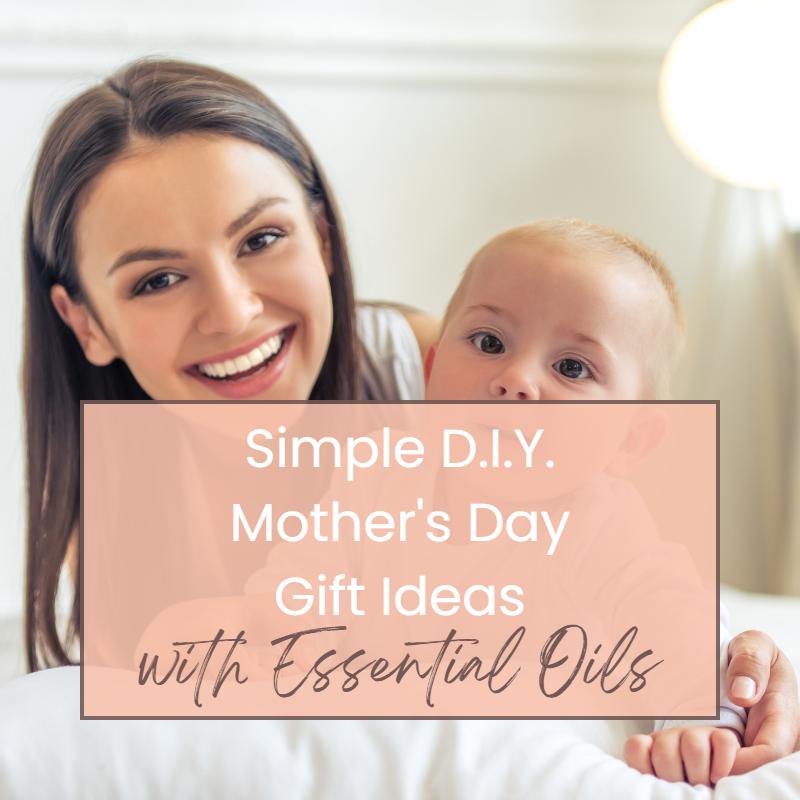 Mother's Day is just around the corner and The Gift of Scent has the tools you need to produce a thoughtful and personalized gift to impress your mom.  Whatever you decide to do to celebrate the special mom or mother figure in your life, the most important thing is that she knows she is loved and appreciated.  It doesn't have to be some grand gesture or expensive present, you can express your gratitude with a simple, thoughtful handcrafted DIY gift.
SUGAR SCRUB
Sugar scrubs are great for exfoliating the skin.  Just rub the mixture over the body (avoid contact with the eyes), leave on for several minutes, and then rinse thoroughly.
What You Will Need:
3/4 cup of Sugar
1/3 cup of fractionated Coconut Oil (The 'fractionated' bit of the name means it has been processed to separate out certain fatty acids. Fractionated coconut oil is more liquid than solid when compared to normal coconut oil and is best used for therapeutic purposes).
8-12 drops Essential Oil of your choice (Peppermint Oil would be a wonderful choice to help Mom feel energized)
Directions: Combine Sugar and Coconut oil in a glass mixing bowl and mix well. Add the Essential Oil and mix again. Store in an airtight glass jar.
SALT SCRUB
Combine relaxing essential oils with sea salt for an exfoliating salt scrub that invigorates the senses. 

What You Will Need:
2 cups Epsom Salt
2 tbsp Olive Oil
10 drops Essential Oil of your choice
Directions: Combine Epsom Salt and Olive Oil in a glass mixing bowl and mix well.  Add the Essential Oil and mix again. Store in an airtight glass jar.
BATH BOMB 

What You Will Need:
1 cup Baking Soda
3/4 cup Citric Acid
3/4 cup Epsom Salt
4 tbsp Fractionated Coconut Oil
10-12 drops Essential Oil of choice
2" Metal Bath Bomb Molds
Directions: Using a fork, combine Baking Soda, Citric Acid, and Epson Salt in a medium-sized glass bowl. Make sure there are no clumps and that the ingredients are evenly mixed. In a separate bowl, combine fractioned Coconut Oil and Essential Oil. Slowly pour the bowl of wet ingredients into the baking soda mixture. Make sure not to add the liquid too fast to avoid the mixture prematurely activating. If the mixture seems too dry, slowly add 1 tablespoon of water. Combine the ingredients with a spoon until they form a wet sand-like texture. If the mixture is too wet, add a little more baking soda and cornstarch until consistency is correct. Fill both sides of the mold and press together until the pieces close together tightly. Remove the bath bomb from the mold and let it airdry overnight. Drop the bomb in the bathtub and let it dissolve, then enjoy and relax.
BODY BUTTER
This body butter is amazing!  You can make your own fragrance that appeals to your senses. If you want something that smells invigorating, try using Sweet Orange Oil.  If you prefer a more calming fragrance, try using Lavender Oil.

What You Will Need:

1/3 cup Coconut oil
1/3 cup Shea butter
1/2 cup Jojoba oil
15 drops of the essential oil of your choice.
Directions: Combine all ingredients in a blender and pulse until the butter has a creamy consistency and then transfer to a large glass jar.
You can handcraft a luxurious and aromatic personal care gift for the special woman in your life using essential oils that will nourish her skin, invigorate her senses and let her enjoy a little pampering and relaxation.
The Gift of Scent has 100% pure and organic Essential oils to help you create a unique gift that is sure to put a smile on your moms face.  You can use one essential oil in your beauty product or you can mix a few of her favorite scents together to design a one-of-a-kind creation.
Happy Mother's Day to all the moms out there!
Michelle for TheGiftofScent.com