September 02, 2021
Hit the Road with the Power Fresh® 12V Car Diffuser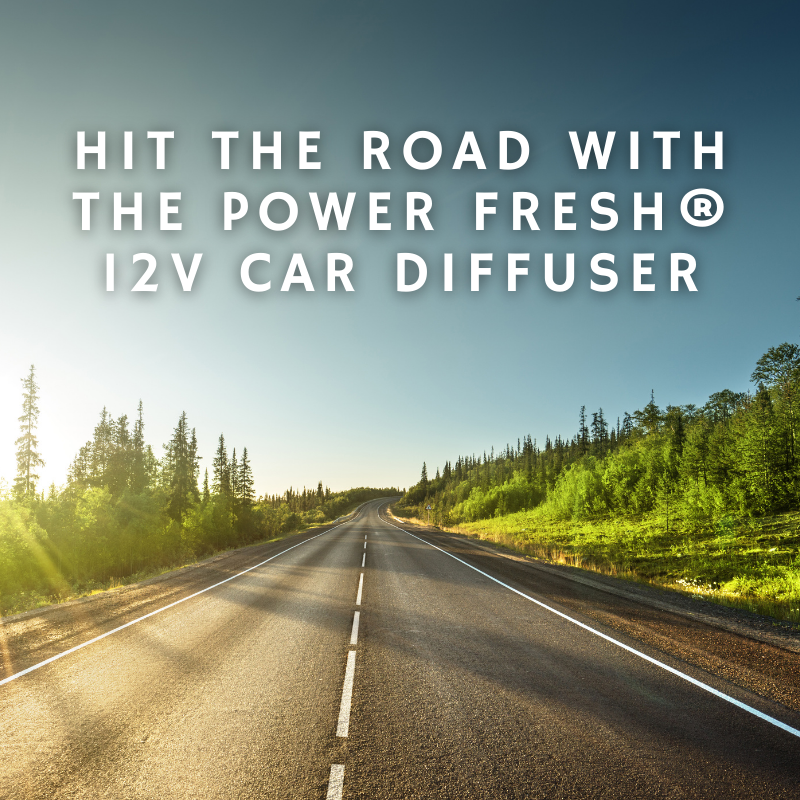 Just in time for Summer road trips, the newest product available on TheGiftofScent.com will keep your vehicle smelling fresh and help you feel energized for the road ahead.
From the makers of the original 12V Car Diffuser comes the next generation in vehicle fragrance: Meet the Power Fresh® 12V Car Diffuser!
The Power Fresh® 12V Car Diffuser provides Aromatherapy and fragrance diffusion for wherever you roam…or stay!
Simply plug into your car's 12V socket, and immediately start enjoying Turbocharged air-freshening while you drive.
The starter kit includes 4 fragrant EVA Scent Bars™: two in rich herbal Speedway and two in zesty, sweet Citrus Sky. Each Scent Bar™ provides over one month (or more) of fragrance! Since the bars are solid, there's no liquid mess.
The push button power switch with LED indictor makes it easy to tell when you're diffusing. With auto shut-off after 1-hour and push-button start, you can extend the life of your favorite Scent Bar and keep your ride smelling fresh for even longer.
You'll love the spicy, herbal fragrance of Speedway and the energizing, fresh fragrance of Citrus Sky Scent Bars. Both scents will have you feeling suave, confident, and serene wherever you travel.
The Power Fresh® 12V Car Diffuser's environmentally friendly green technology ensures your diffuser will give you years of fragrance diffusion. No more ditching single-use car diffusers and filling the landfills will more waste. The Power Fresh® 12V Car Diffuser can be refilled with your favorite scent bars so you can cut down on your personal waste without sacrificing the comfort of a fresh-smelling ride.

It is safe, cordless, and easy to use. The Power Fresh® 12V Car Diffuser makes the perfect gift for anyone with an on-the-go lifestyle!
Freshen the air in your car, relieve stress, and combat odors for weeks with the Power Fresh® 12V Car Diffuser. Its ergonomic, patent-pending design is like nothing else in auto fragrance diffusion! Your morning commute never smelled so good. Plug in your Power Fresh® 12V Car Diffuser and rest easy knowing you'll have a fresh vehicle for a month or more.
The Power Fresh® 12V Car Diffuser is our top pick for Father's Day Gift Ideas. See the rest of our picks with the Father's Day Favorites collection on TheGiftofScent.Com.
Whether you're on a long trip or just running around the corner on an errand, the Power Fresh® 12V Car Diffuser will help you feel fresh on the road.
Shop for the Power Fresh® 12V Car Diffuser now on TheGiftofScent.Com.
Kate for TheGiftofScent.Com.