September 08, 2021
New eBook: "Aromatherapy 101"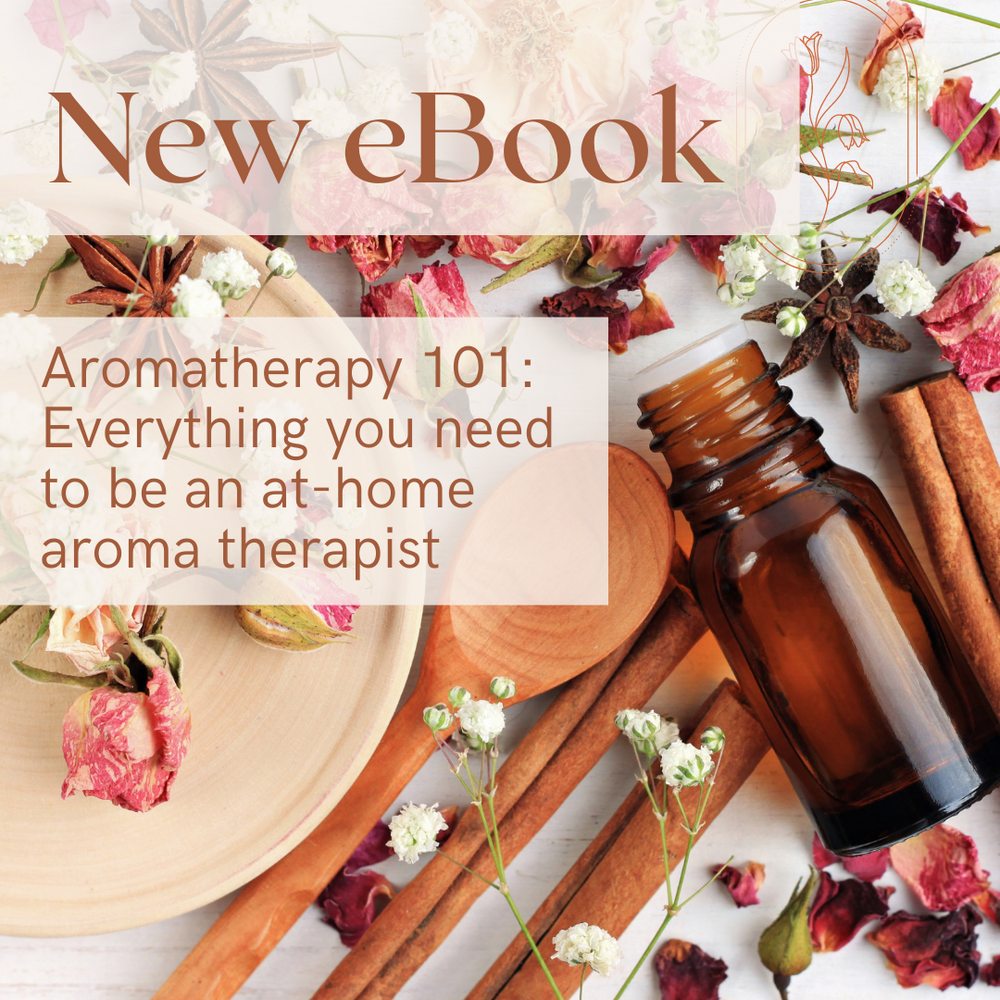 If you've been hanging around here for a while, you know that aromatherapy is one of our favorite subjects at The Gift of Scent. Essential oils are all the rage, and for good reason!
The powerful plant essences can promote optimal health and wellness for every system in our bodies. From digestive health to brain health, hormone balance to muscular system health, essential oils can help improve the overall functioning of our physical bodies.
Essential oils can also help improve our emotional health and wellness. Essential oils can help us release stress and mitigate the negative effects of stress on our bodies. Aromatherapy techniques can be used to help you make intentional mindset shifts throughout the day that will help keep you on the path toward an improved life.
Using essential oils daily in a variety of ways doesn't provide a "band aid" effect for fixing health and wellness issues quickly. Using essential oils daily helps every system in your body function optimally so your overall health and wellness improves by helping your body work the way it is designed to work. In this way, aromatherapy is a tool or method that may help you attain long-term health and wellness.
There is so much information out there about aromatherapy—and from dozens and dozens of sources! The plethora of information can be overwhelming, especially if you're just getting started with aromatherapy.
When I first wanted to learn about essential oils, I sifted through countless pages of information in all different forms—from books and articles to blog posts and personal stories. There is always more information to be found, but much of the information says a lot of the same things about essential oils and the practice of aromatherapy:
Essential oils are powerful herbal/medicinal substances.
Essential oils can help improve every system in our bodies--even our emotions.
Practicing daily aromatherapy can optimize our health and wellness
The practice of aromatherapy is highly individualistic. It is not a one-size-fits-all practice.
Essential oils are powerful and should be used knowledgeably to avoid personal injury. 
Essential oils are not prescriptive substances. They help improve health and wellness over the long-term.
That list may help you start to feel like you could wrap your mind around the use of essential oils and the practice of aromatherapy, but I wanted to make it even easier for first-time essential oil users to become aroma therapists for their own personal well-being. That's why I wrote the eBook, "Aromatherapy 101: everything you need to be an at-home aroma therapist."
In this eBook, I distill (pun intended!) down all the information I could find about aromatherapy into a 38-page resource that explains what essential oils are, why they are a big deal, how they can affect health and wellness, and how to use them on a daily basis.
You can get a FREE sample of the eBook by subscribing to our mailing list! The free sample includes:
Introduction to essential oils
Aromatherapy basics: Rose Geranium Essential Oil
Essential Oil Diffuser Blends: 4 of 25 Blends
Aromatherapy Essentials
Click HERE to get your FREE Sample eBook!
By subscribing, you give The Gift of Scent permission to contact you about deals, new items, sales, and more! We won't email you all the time, but we certainly want to keep in touch! 
To learn all you need to know about how essential oils can have a positive impact on our physical, mental, and emotional health, and to learn how you can use essential oils in your daily life, purchase "Aromatherapy 101" on TheGiftofScent.Com!
Kate for TheGiftofScent.Com.