November 29, 2022
Stocking Stuffer and Small Gift Ideas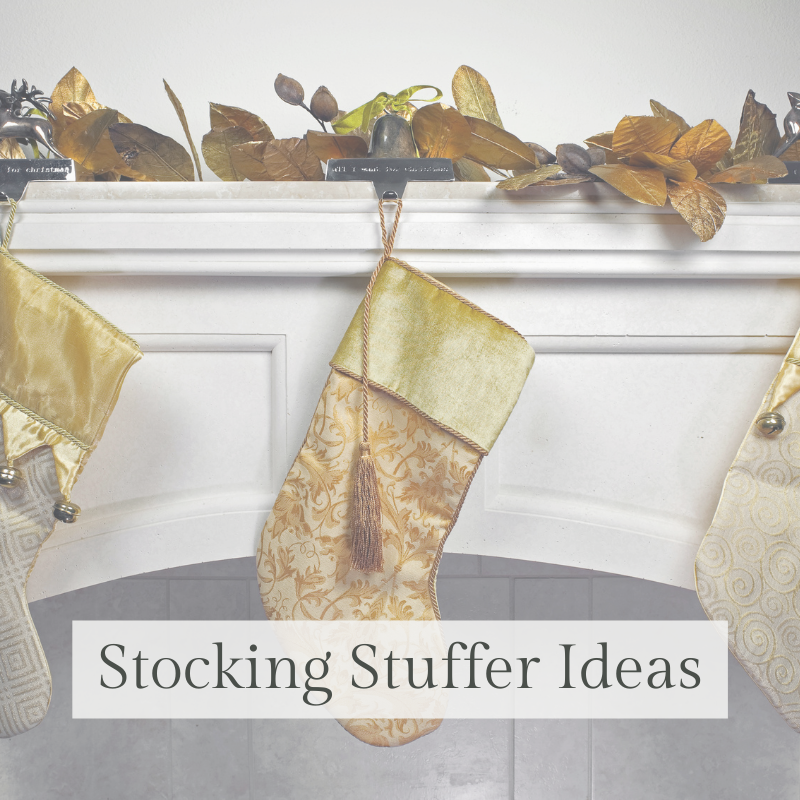 Stocking stuffers don't always have to be candy canes and socks. Sometimes, a little fragrance or self-care gift can make your loved one's holidays scent-sational! Whether you're filling a special gift basket or handing out some small gifts to friends or colleagues, we have stocking stuffers that are a step up from those last-minute little trinket purchases that are both useful and affordable.
Stocking stuffers can be some of the most challenging gifts to shop for. You want to surprise your loved ones with something they'll be delighted to pull out of their stocking. Stocking stuffers aren't just for little kids either. Trust me when I say that the whole family gets excited to open up their stockings to explore the treasures within. It is important to find a gift that is thoughtful, but small enough to fit in a stocking, and isn't too expensive. The key is to not spend too much on each gift and find something your loved one will truly enjoy.
No seasonal stress here—we've got the stocking stuffer ideas you need for your spouse, dad, coworker, and everyone else in between.
If you're looking for gift ideas for those who enjoy long baths or love the ambiance of candles, look no further! We offer a variety of gifts in both our premium soy candle and bath and body categories. These items make great presents because they can be tailored to fit your loved ones' needs. For instance, if someone is need of stress relief or wants to feel energized, we have the perfect salt soaks for them to enjoy a relaxing, energizing, or enriching bath that come in three luxurious scent combinations.  If someone prefers scented candles over bath salts, you guessed it – we've got them covered there too! They can travel the world from the comfort of their home with the Bisby Hand-Poured Soy Candles Global Collection.
Know someone who's always relaxed, calm and centered? For this self-care expert, I recommend gifting them a bit of "me" time with our soothing selection of bath and body products. They can pamper themselves with these essential oil-infused soaps and sugar scrubs to enrich their personal care routine and are certain to be a holiday hit. If soaps and scrubs are not their thing, we have a great selection of 100% pure and organic essential oils that are natural, easy to use, versatile and cost effective. Essential oils can help reduce stress and anxiety, improve sleep, relax the mind, soothe the soul and so much more! You can gift them a few different scents so they can get creative and mix the different oils together to find a scent that both appeals to them and aids in whatever ails them.
Whether you're looking for a present for your friend, daughter, cousin, or little brother – or even looking to add to your own personal Christmas list – give our No-Mess Wax Tarts a try. With scents like Pumpkin & Spice, Icy Cinnamon, Evergreen, Vanilla Bourbon and more, any one of them is sure to be perfect. They'll make every room in a home smell like a wonderland this gift giving season. Plus, these little bundles of bliss can be used in any room to add instant ambiance and fill the air with the fragrance of the season.
Do you know someone who spends a lot of time in their car? We have an extensive car fragrance collection that will elevate and freshen their driving experience. We have several different forms and designs to fit their personal style. There are ones that hang from the rear-view mirror, clip onto the air vent, clip on the sun visor, plug into the car's 12-volt charger or are portable and can be put anywhere inside the car. These fresheners will eliminate any lingering odors inside their automobile, and allow them to arrive at their destination refreshed and happy.
If you're searching for a little something for a fragrance enthusiast or someone who enjoys decorating for the holidays, our Plugables® Electric Fragrance Diffusers and fragrance refills would make the perfect gift! We have designs to enhance any décor, from cute to chic to seasonal, we've got a style to fit in any space. The refills come in eleven stunning aromas, so you're sure to find one that brings joy to the recipient. We also have Scented Holiday Ornaments that can provide a fragrant atmosphere to your holiday gathering by hanging them on your tree, wreath, or wherever else you want more holiday cheer.
As always, these products are sure to please anyone on your list this holiday season. Whether you choose one item or several from our selection of stocking stuffers, we guarantee that whoever receives these thoughtful gifts will love them!
Wishing you a happy and fragrant holiday season!
Michelle for TheGiftofScent.com