December 14, 2022
12 Days of Fragrance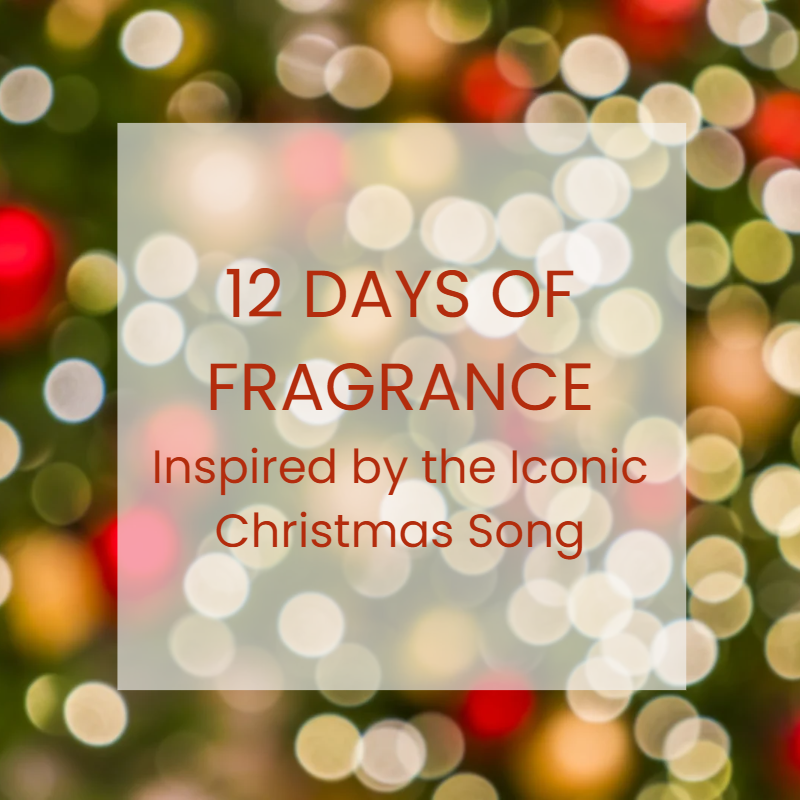 If you followed the song lyrics from "12 Days of Christmas" to a tee, all of the gifts bought would cost a small fortune.  The thought behind these twelve gifts is really charming: Show the person you love most, whether it's a spouse, friend, child, teacher or co-worker, just how special they are. 
Inspired by the lyrics of this beloved Christmas classic, The Gift of Scent has chosen some unique gifts to bestow on your family and friends to help celebrate the most wonderful day of the year.
Bring the joy of fragrance into your home with a Plugables Fragrance Vase from The Gift of Scent. You can use with our 100% Pure Essential Oils or our No-Mess Tarts. This also makes a great holiday gift for friends and loved ones.
Looking for a great gift idea a friend who is passionate about health and wellness? The Gift of Scent has you covered. We have a nice selection of Ultrasonic Diffusers and 100% Pure and Organic Essential Oils sure to please those on your list who enjoy aromatherapy and its benefits.
The ScenTrio Wax Warmer makes the perfect gift to give or keep for yourself. It's versatility and refined aesthetic make for a top-of-the-line addition to your fragrance product collection. Whether the user prefers wax melts, fragrance oils, essential oils, or the easiest, most effective of all – the Belle Aroma® No-Mess Tarts™, it's the perfect multi-purpose solution.
"Wow," your senses with the ScentWow® Aromatherapy Car diffuser. The ScentWow® plugs into the vehicle's 12-volt outlet to diffuse your favorite essential oil as you drive. This makes a great stocking stuffer too!
Essential oils make a great holiday gift, and they are natural, easy to use, versatile and cost effective. You can get creative and mix different oils together to find a scent that both appeals to you and aids in whatever ails you. Essential oils can help reduce stress and anxiety, improve your sleep, relax your mind, soothe your soul and so much more!
Want to bring a smile to someone's face this holiday season? Electric diffusers are a great way to brighten your space and disperse an inviting scent throughout your home. They also make a great stocking stuffer or thoughtful gift for the holidays. We have designs to enhance any décor, from cute to chic to seasonal, we've got a style to fit in any space. The refills come in eleven stunning aromas, so you're sure to find one that brings joy to the recipient.
Drive Time Aromables® reusable vent clip air fresheners make it easy to take good smells with you wherever your roam, so you arrive refreshed and happy. Do you know someone who spends a lot of time in their car? The Gift of Scent has an extensive car fragrance collection that make great gifts for yourself, or for a friend or loved one. These car fresheners will elevate and freshen one's driving experience.
Love wax warmers but hate the mess? Try our No-Mess Fragrance Tarts™ to enliven your décor with scent! Our No-Mess Fragrance Tarts are easy to use and provide a long-lasting scent you can enjoy for weeks. You can mix and match the different fragrances to create your own unique scent.
Plug in freshness without the mess. Enjoy peace of mind and a calming night light with the multi-purpose Plugables® ScentSlides® Night Light Fragrance and Aromatherapy Diffusers. They can be used with Fragrance Wafers™ or pure and natural essential oils. These also make great stocking stuffers!
Who doesn't love candles? You can travel the world from the comfort of your home with the Bisby Hand-Poured Soy Candles Global Collection. These items also make great presents because they can be tailored to fit your loved ones' needs.
Enjoy long-lasting sophisticated scents for your favorite Plugables® Electric Home Fragrance Diffuser with any of our delectable 11 fragrance oil refills! Find a fragrance that will make your house feel more like home.
If you're searching for a little something for a fragrance enthusiast or someone who enjoys decorating for the holidays, our Scented Holiday Ornaments are the perfect gift! They will provide a fragrant atmosphere to your holiday gathering by hanging them on your tree, wreath, or wherever else you want more holiday cheer.
Have a scent-sational Holiday!
Michelle for TheGiftofScent.com.